Journey with your congregation or community members to explore the depth and breadth of Unitarian Universalism. Scroll down to see our full listing of trainings for learners.
Although you can access most trainings as an individual, invite others in your congregation or community to learn together with you. We include discussion questions and applications to make it easy for you to process and more fully embody them in the world together. Remember our strong interconnected web – you're not in this alone!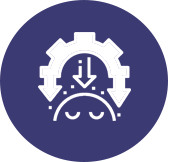 Integrate your values into your everyday life – with your family and friends, in your workplaces, and in embodying justice, equity, and compassion in our communities.
Developing our faith invites a strong sense of grounding and purpose.
Trainings offer an opportunity to open up to new understandings and possibilities.
Unlearn harmful cultural assumptions, stereotypes, and behaviors to realign with the fullness of our values and integrity.
Our lives are complex and multi-faceted. A strong faith foundation allows us to hold complexity and the seemingly contradicting truths we find in ourselves and others.
Please Note: Most trainings have a nominal fee.