Leading in congregations is more challenging than ever. We offer trainings that give you the tools you need in a flexible and affordable format.
There are several "core" leadership trainings available using a flipped classroom model where people access the materials on their own, then gather and use the provided discussion questions or activities.
Check out the Core Leadership Training overview page on the UUA website to see which is best for your situation.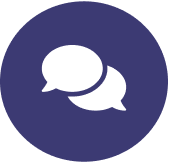 Develop skills such as healthy communication, systems thinking, spiritual grounding and an understanding of the dynamics of conflict.
Focus on recruiting and relationship building. With these trainings, you can spend less time on content and more on connection.
Use "on demand" presentations,  readings, discussion questions, and activities to delve deeply into our rich content.
The UUA LeaderLab team monitors discussion sections and awards a certificate upon completion.
Please Note: Most trainings have a nominal fee.